Location: Yacoo's Past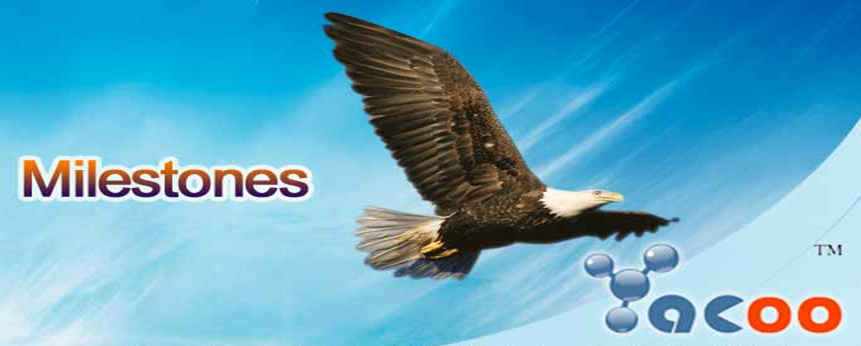 2003-5
Suzhou industry park Yacoo chemical reagent Co., Ltd. was founded in May 2003; Business scope : R&D、production、and sales of clinical diagnostic reagents 、pharmaceutical intermediate and electronic chemicals.
2005
In 2005, through independent research and production, new biological buffers were introduced to the market formally: including bis-tris-propane、bis-tris, and Yacoo achieve more than 300 million on exports in 2005.
2007
In 2007,Yacoo responded positively to the call of Suzhou government industrial policy, we conducted a strategic adjustments,then we settled our company headquarters in National bio-nano-industry base — bio-nano -technology industrial park。
2008
Our company won the "Suzhou High-tech Enterprise"; In Oct ,Beijing office was put into operation formally。ISO9001:2008 quality management system certification.
2009
In 2009,Yacoo was awarded two patents for inventions, a "Suzhou High-tech products" and " provincial high-tech products" ; At the same time, our company expanded Southern Industrial Square whose area of 3000 square meters, which to become a Small and medium test base of research and development of yacoo。
2010
In Feb. 2010 , become the first pilot enterprises financial innovation in Biological nano science and Technology Industrial Park ,Suzhou Industrial Park。In June, 2010, Yacoo completed a joint-stock reform and officially changed the name into Suzhou Yacoo Chemical Reagent Corporation。In Oct. 2010,Shanghai、Ji'nan 、Guangzhou offices of our company were put into operation formally.
2011
In 2011,Yacoo was awarded for the first round of equity financing。Won two Honor: "private enterprises in Jiangsu province" and" identification of high-tech products in Jiang su province ".
2012
In 2012,Yacoo was awarded: "national high-tech enterprise", Vice president of the unit of Suzhou High-tech Enterprises Association, Vice president of the unit of Suzhou Suqian Chamber of Commerce。Headquarters entry in Jin hai Road No. 17, Industrial Park , R&D center expanded to 5000 square meters . B2 star was launched Operation officially.
2013
In 2013 ,Yacoo won Jiangsu Science and Technology Support Projects,also won item of National Innovation Fund ,and was elected into the library of to-be-listed enterprises, directly supported by the government of Jiangsu province.

2014
In 2014 ,1.Obtained a RMB two million investment by Suzhou Economic Development Bureau.
2.Sales continued to grow at a high rate of 39 percent