当前位置: 技术支持
四甲基联苯胺(TMB 54827-17-7)物质数据和安全信息
一、物质数据
中文名称:3,3',5,5'-四甲基联苯胺
英文名称:3,3',5,5'-Tetramethylbenzidine
别名:TMB
分子式:C16H20N2
分子量:240.34
结构式: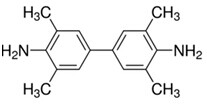 外观: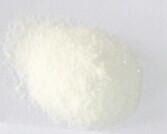 熔点:168-171 °C(lit.)
保存温度:2-8°C
用途:本品为联苯胺的非致癌性替代品(Ames 试验阴性),适合作为酶联免疫吸附分析的过氧化物酶底物。底物产生一种可溶性淡蓝色终产物,该产物可通过分光光度法在 370 或 620-650nm 处读取。可用 2M H2SO4 终止 TMB 反应(变成黄色),并在 450nm 处读取数据。一种灵敏的特异性试剂,用于检测血液、测定血红蛋白、测定过氧化物酶。
Cas 54827-17-7
二、安全信息:
| | |
| --- | --- |
| 信号 | |
| 信号词 | Warning |
| 危险声明 | |
| 警示性声明 | |
| 个人防护装备 | dust mask type N95 (US), Eyeshields, Faceshields, Gloves |
| 危害码 (欧洲) | |
| 风险声明 (欧洲) | |
| 安全声明 (欧洲) | 26-36 |
| WGK德国 | 3 |
三、参考文献
1、Use of tetramethylbenzidine in plasma hemoglobin assay.
J C Standefer and D Vanderjagt
Clinical Chemistry, 23(4), 749-751 (1977)
Plasma hemoglobin can be assayed by substituting 3,3',5,5'-tetramethylbenzidine for benzidine (a carcinogen) as the chromogenic reducing substance. Sensitivity, precision, and accuracy compare well with methods in which benzidine is used. Plasma inh.
2、Tetramethylbenzidine--a substitute for benzidine in hemoglobin analysis.
R C Lijana and M C Williams
Journal of Laboratory and Clinical Medicine, 94(2), 266-276 (1979)
Plasma hemoglobin is routinely measured by some modification of the benzidine-hydrogen peroxide method, particularly at low concentrations. Because benzidine is carcinogenic, and thus impractical for clinical use under current restrictions, the iden..
3、Quantitative determination of hemoglobin and cytochemical staining for peroxidase using 3,3',5,5'-tetramethylbenzidine dihydrochloride, a safe substitute for benzidine.
H H Liem et. al
Analytical Biochemistry, 98(2), 388-393 (1979)
4、3,3',5,5'-Tetramethylbenzidine as an Ames test negative chromogen for horse-radish peroxidase in enzyme-immunoassay.
E S Bos et. al
Journal of Immunoassay, 2(3-4), 187-204 (1981)
The use of 3,3',5,5' - tetramethylbenzidine as non-mutagenic chromogen for the end point determination in enzyme-immunoassay (EIA) is described. In sandwich EIAs for HCG and HBsAg and in a competitive EIA for testosterone, the colour yield with TMB .
5、Quantitative determination of myeloperoxidase using tetramethylbenzidine as substrate.
P C Andrews and N I Krinsky
Analytical Biochemistry, 127(2), 346-350 (1982)
6、[Horseradish peroxidase: kinetic studies and optimization of peroxidase activity determination using the substrates H2O2 and 3,3',5,5'-tetramethylbenzidine].
H Gallati and I Pracht
Journal of clinical chemistry and clinical biochemistry. Zeitschrift fur klinische Chemie und klinische Biochemie, 23(8), 453-460 (1985)
Horseradish peroxidase is often used as a labelling and indicator enzyme in enzyme immunoassays. In order to optimize the peroxidase activity determination, the kinetics of the catalytic reaction were investigated in relation to the concentration of.
7、Loss of Endocan tumorigenic properties after alternative splicing of exon 2.
Florence Depontieu et. al
BMC Cancer, 8(1), 14 (2008)
Endocan was originally described as a dermatan sulfate proteoglycan found freely circulating in the blood. Endocan expression confers tumorigenic properties to epithelial cell lines or accelerate the growth of already tumorigenic cells. This molecul..
8、 Immunogenicity of human mesenchymal stem cells in HLA-class I-restricted T-cell responses against viral or tumor-associated antigens.
Fabio Morandi et. al
Stem Cells, 26(5), 1275-1287 (2008)
Human mesenchymal stem cells (MSC) are immunosuppressive and poorly immunogenic but may act as antigen-presenting cells (APC) for CD4(+) T-cell responses; here we have investigated their ability to serve as APC for in vitro CD8(+) T-cell responses.