Location: Company News
Congratulations To Yacoo Science For The Successful Registration Of Trometamol As Pharmaceutical Excipient ON NMPA CDE
The application for registration of Yacoo Science about Trometamol, as a pharmaceutical excipient for oral preparations was successfully approvaled by the NMPA CDE On Feb 27,and the registration number is:F20190000711.Yacoo Science became one of the five companies that have completed the registration in China.Next, Yacoo Science will carry out the related review work with formulation manufacturers.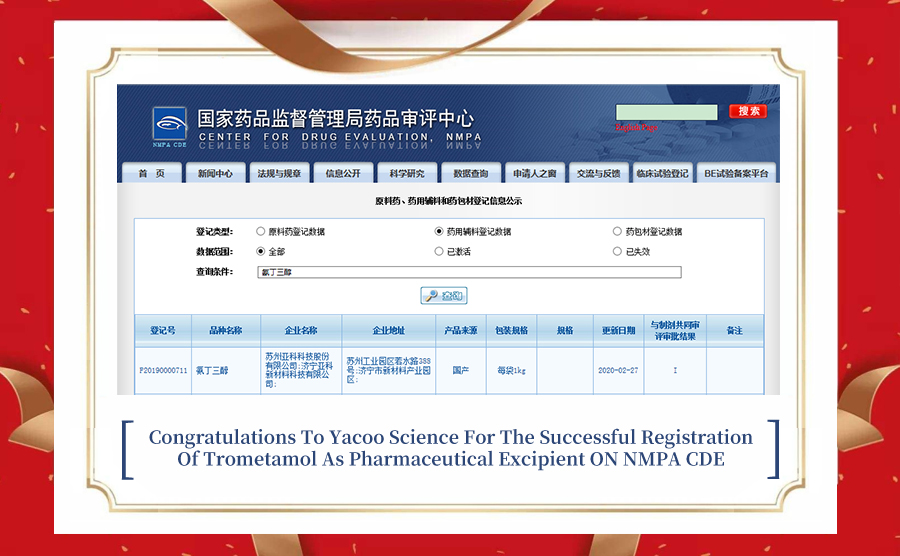 The route of administration for trometamol ,which as pharmaceutical excipient,includes oral administration, injection administration (subcutaneous, intramuscular, intravenous), rectal administration, ophthalmic, topical, etc.It can be used in Pidomode Oral Liquid, Iohexol Oral Preparation, Iohexol Injection, Ioxatrol Injection, Injection Lornoxicam and other preparations.
Yacoo Science had carried out physical property research, production process verification, quality control, impurity research, stability research and other researches on trometamol, and submitted the application materials required for registration according to the 《Announcement on further improving matters related to drug related review, approval and supervision (No. 56, 2019)》,which was issued by NMPA.Finally the plication materials was approved .
Yacoo Science has established quality standards for rometamol as a pharmaceutical excipient,according to the the information of trometamol,which recorded in fourth part of Chinese Pharmacopoeia (2015 Edition), British Pharmacopoeia (BP2019), European Pharmacopoeia (EP9.0), and US Pharmacopoeia (USP42) ,and ensured that the quality of our products meets the needs of our customers.
Trometamol is an advantageous product of Yacoo. It is not only a pharmaceutical excipient, but also an important biological buffer. It is widely used in biochemistry, molecular biology, in vitro diagnostics, cosmetics, coatings and other fields.At the same time,trometamol is an important pharmaceutical intermediate, that can be used to synthesize dexketoprofen tromethamine, fosfomycin tromethamine, and ketorolac tromethamine etc.
The production capacity of trometamol is 2000t /a, and the quality has been trusted and praised by customers in various industries. Welcome customers to come to consult and buy.